Askham Village Community
Set in rural Cambridgeshire, Askham Village Community is a group of specialist homes which provide professional nursing care to young adults and the elderly. Askham offers day care, rehabilitation, respite, continuing long-term support. All homes are staffed with 24-hour nursing care.
The Challenge
Askham are a family business and have grown organically over the last 30 years. As such, internal processes had evolved over time to keep pace with regulatory requirements and the needs of a growing organisation. Paper-based reporting and recording systems were the norm for rotas, timesheets, annual leave and absence as well as training status and other personnel information.
The administration of these essential business processes had become very time consuming and frequently inaccurate. As the business grew, staff numbers increased to 250 but the manual, paper systems remained the same.
The management team recognised they needed to make their processes more efficient but were nervous about going digital given that affinity with computers and technology varied amongst the staff team. The last thing Askham wanted to do was take valuable staff time away from care provision to grapple with new and unfamiliar tools.
It was increasingly clear, however, that Excel and paper-based systems offered no way of cross-checking genuine working hours; there was no revision history and no audit trail. It was challenging to easily identify gaps in training records or check that staffing levels were sufficient for resident need. Absence monitoring was a cumbersome and manual process. With little accountability, the process was error-prone and inefficient – and costly.
"I don't know where we would be without Alpaka. The reliance on paper was becoming a burden whereas information is now at our fingertips."
Aliyyah Begum-Nasser
Managing Director
The Solution
Alpaka adoption proceeded in four stages.
1 – Software Champions: An introduction to data & rotas
With a clear wish list, Askham realised that requirements could be met by Alpaka's collection apps and rostering tool. Alpaka began by ensuring the accurate transfer of employee data into the system. Not just contact details, but also job titles and working locations, contracted hours, training status, next of kin and all other relevant employment information.
With the data in place, phase two introduced the key capabilities to the senior staff who would be expected to use them. Askham appoints lead nurses and nurse managers in each of their sites so these senior team members had a short presentation on the rota functionality; their feedback lead to some new development work and the creation of specific support material. They were then given access to a 'playground' version of Alpaka and invited to have a go with dummy data.
Within a month, they were creating rotas and navigating the annual leave process with ease.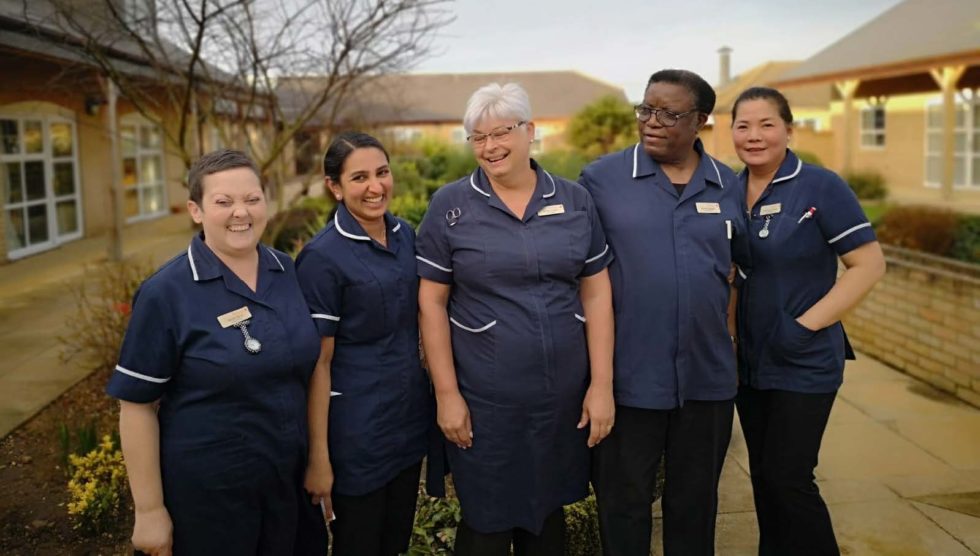 2. Management Team: Parallel working with old process and Alpaka; roll out to the wider team with the read-only calendar app
Department heads used the rostering tool for a few weeks in parallel with their paper-based rotas so that familiarity and confidence grew. Alpaka usually replaces Excel files, but where needed Askham staff could download data into Excel at the click of a button if they wanted to print out shift plans for their teams.
The team leaders also quickly got to grips with the system. They provided valuable feedback to Askham's owners and directly to Alpaka support via the live chat. It was interesting to see precisely how intricate the shift patterns were and how much they varied between sites. Already value was being added by creating visibility on a day by day basis across all sites.
Once the team leaders were confident with rostering, we introduced the read-only calendar app to all employees. This aspect of Alpaka enabled staff to have a real-time view of their forthcoming shifts (previously they could only see the current four week period in advance from checking the notice board on site). This convenience became invaluable when the COVID-19 lockdown struck as it meant schedules could be modified quickly and the team could see changes without the need for direct contact.
"My biggest fear with implementing Alpaka was ensuring staff were not pushed too far out of their comfort zone...

...The patience and support of the Alpaka team made implementation smooth and enjoyable."
Aliyyah Begum-Nasser
Managing Director
3. Employees: Presence app for clocking in and out with paper timesheets for comparison
Due to COVID-19, our implementation plan needed to adapt and certain elements of Alpaka became essential to Askham Community Village.
Alpaka Presence, the time and attendance app, uses standard smartphone hardware to record team traffic entering and leaving work. The intention was for each team member to have a PIN and to use it to identify themselves at the readers. In a clinical environment, and especially with cautious hygiene procedures, having everyone touch the same keypad is not possible. To overcome the keypad contact, we printed and issued QR codes for the team instead.
Employees continued to complete paper timesheets whilst new habits formed. Meanwhile, Alpaka Presence learned the working patterns and gathered data for its decision engine. Askham management quickly saw how the Presence app was significantly more accurate than paper timesheets and how it recovered hours of lost time. Staff were also able to manage their annual leave remotely without paper, and managers could easily check for conflicts before approving holidays.
It also emerged that while the focus was on managing time, Askham managers found that periods of isolation and quarantine could also be tracked easily to ensure staff were only on the rota where they were known to be safe and fit to work.
4. Askham Village Today - No more paper, the full digital experience.
Now six months into using Alpaka, the Askham Village Community workforce is fully digital. They are using all the key elements of Alpaka: rota planning, time and attendance recording, absence management, annual leave accounting, skills administration and file storage. Auditing and reporting is also being well used by the Board, supporting their recent Investors In People award.
The reporting suite is generating insight and assisting with future planning. Askham's managers and owners now have full oversight in the way time is consumed as a resource in their business. Askham can now make informed decisions backed by real data.
The Outcome
Askham Village Community are saving time and money with a more efficient system for employee management.
Alpaka Presence is providing the management team with real-time data, so it serves as a visual audit of who is where, when and for how long.
Askham's team only need to manage exceptions - those attendance readings that are flagged by the system as requiring manual review thanks to Alpaka robots continually assessing attendance data to build individual timesheets. Using a smart decision-making engine, Alpaka draws intelligence from contracted hours, schedules, habit, and performance.
Alpaka has dramatically reduced the time handling employee attendance, re-entering data from paper records into Excel, and has increased the accuracy of payroll exports, saving the organisation time and money.
The timing of Askham's digital transformation and COVID-19 lockdown gave everyone additional challenges. Notably these included the introduction of QR code badges rather than issuing PINs to the team. Training and support functionality is delivered on-line rather than in-person.
And because Alpaka is cloud-based, employees working from home can still roster their teams, manage annual leave and manage training needs without needing to be on site.
Conclusion
Askham's 'challenge' is a common scenario in the care sector, especially where businesses have grown organically and processes have remained manual and paper-based. It might seem a daunting task, but with the right technology, a digital transformation is very possible.
Since the change process was paced to match the team's capabilities, the Askham and Alpaka stakeholders could learn together and adopt an implementation that suited the business needs perfectly.